Should I start a blog in 2023?
Is this starting a blog is profitable?
What steps should I take to start a blog?
With the state of the world as it is right now and how it's been for the past couple of years, it may be no surprise that the search for "how to start a blog with no money in 2023" has been trending for a while now! Folks are hurting and looking for alternative means to earn an extra income, be that from home through blogging, or by other means.
Blogging is one of the best and easiest way anyone can start earning an income from home. For starters, you can start blogging for free, using free blogging platforms online and promoting products, services or by simply sharing badly needed information – such as advice, stats on the ongoing invasion in Ukraine, or any other issue that's on interest to a whole group of people. All that's possible, through blogging!
With that said, I'll try my very best to pre-ampively answer all your questions relating to how to start a blog (with step by step instructions) in this article.
Disclaimer – Since I share blogging and internet marketing strategies with awesome folks like you, naturally my content may contain affiliate links for products and software I use and recommend. Should you take action (i.e subscribe, make a purchase etc) after clicking one of these links, I'll earn some coffee money – Which I promise to drink whilst creating more helpful content like this! 🙂
At the heart of it, a blog is an informational website. Blogs started off around 2000 as an online diary of sorts, where you could post your daily activities or thoughts – like a diary, save it was diary.
All blogs have two types (for lack of a better word) of sections – Pages and Posts. Pages usually contain information relating to the blog owner (blogger) like the blog's Terms of service, about us, disclaimers etc.
Posts on the other hand are the heart of the blog, they contain the information you as a reader are on that specific blog in the first place! Posts can either be short and specific, or lengthy, as in this post you're currently reading, you nonchalant blogger you!
Erhm, I digress!
Blog posts usually appear in reverse order on the  page where they appear. By this I mean the most recent post appears at the top of the blog, whilst the earliest content at the very bottom.
Of course the layout can be changed using various plugins which can "cut and reveal" your posts into content specific posts, as opposed to one long page consisting of multiple posts that you can access by simply scrolling down the blog.
You don't need to be a professional writer to start a blog for free and make money in the process. Also, you don't need to be an expert in the niche you may be writing about. If you're learning something and want to write about it in your blog you can do that. Most bloggers write their perspective on a topic and want to engage with their readers.
Another way bloggers get their content is through outsourcing – paying someone versed in that topic to write it out for you – for a fee of course. Even professional writers at times do this. So, if you have an idea for a blog, but do not have the skills to articulate that content yourself, you can pay someone to write the content for you.
Steps we follow in this article to start a blog:-
Choose Your Blog Niche
Create Your Blog
Learn about WordPress
Choose a WordPress Theme
Write & Publish Your First Blog Post
What To Do Next?
So let's dive into it –
1. Choose Your Blog Niche
Most folk approach blogging from a profitability standpoint – before even starting a blog!
Whilst that's not bad in and ofitself, you may miss YOUR ability help your readers, simply because you're seeing dollar signs before you've even started.
All blogging topics that have an audience are potential money makers btw so, take action rather than overthink the process. Just select a topic that you are passionate about, have some experience in, or can outsource.
Here are some popular and profitable blog topics:
Health and Fitness

Make Money Online

Relationships & Parenting 

DIY & Crafting

Personal Finance

Traveling

Cooking & Recipes

Beauty & Fashion

Technology

Education
Select your topic and start narrowing down your niche, so that you get a very targeted audience. Once you selected your topic, then it's time for the next step to take.
Narrowing is where you take a broad niche like gardening and narrow it down to something like – "tomato growing tips in winter" or "diy hydroponic vegetable growing in your backyard" – something to that effect!
For creating your blog, you'll need two things:
A Name – every blog needs a website/domain name associated with your niche in order to be found online. Before the major google updates and algorithm slaps became a thing, it was fashionable to have blogs named after popular long-tail keywords in order to rank in the search engines for traffic. Now, your website name can be anything really, catchy or otherwise, up to you.

A Web Hosting Provider

– Your (professional) blog needs to be hosted somewhere on the interweb to be found. 

A Blogging Platform

 – A blogging platform provides you an environment where you can create and edit your blog posts and manage other things of your blog.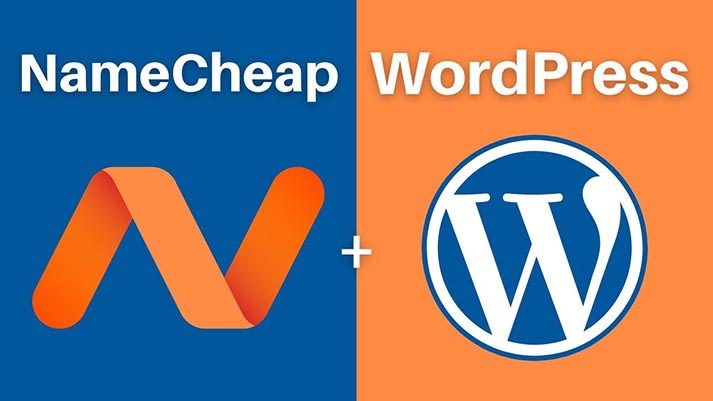 ii. Select a plan that suitable for you. As you can see from the graphic below, all of namecheap's shared hosting plans are super affordable for all your needs. Choose a plan like Stellar Plus or Business where you can host unlimited websites, have more storage capacity and auto backups.
Once you've selected your plan, simply click on "Get Started."
iii. Register your domain name. Just type your domain name in the search box and click on Search. 
Namecheap gives you options to choose the domain extention once you've selected the domain name.
iv. Once you have your domain name selected and ready to have it registered, you have to click on add to cart and you'll be redirected to the checkout where you can add additional services like SSL certificate and options for auto renewal of your domain etc.. You also have the option to add a coupon code, should you have one, before checkout using paypal or your preferred payment selection.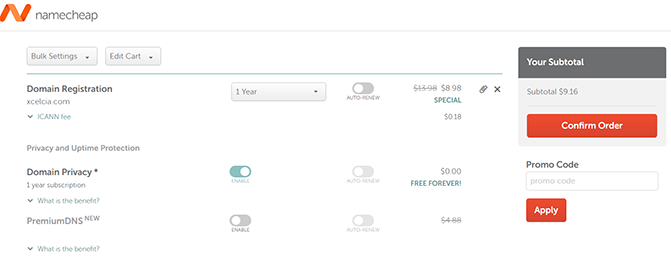 v. Should you also have selected your hosting plan with namecheap in stage ii above, you'll have received an email from namecheap with instructions on setting up your hosting account. 
vi.  The instructions in your email will enable you to setup your hosting account and be able to Login to your cpanel dashboard and install WordPress, then set up a password for WordPress.
namecheap also has a dedicated 24/7 live support you can chat with should you experience problems with either your hosting account or domain registration. Their support's awesome btw!
WordPress is a free, open source content management platform that allows users to build and host websites. In layman's terms, it's a bloggers dream! With wordpress, the possibilites of blogging are endless!
You'll be able to create, edit and publish your blog posts.
If you know a thing or two about how to start a blog with wordPress, you can skip this step. However, if you're not familiar with WordPress, then here is a quick overview of the platform for you.
In the WordPress dashboard, you can see the WordPress Admin Panel at the left of the screen.
The basic options of WordPress Admin Panel are –
Posts 

– All your blog post is showing here, you can edit and create new blog posts here. 

Media – 

You can manage all media of your website here. 

Pages

 – All your website pages here, you can edit and create new pages for your website.

Comments –  

You can manage all your blog post comments here, either you approved or disapproved.

Appearance – 

Customize & Manage your WordPress theme, header, footer, menus, etc.

Plugins – 

Manage your plugin, add or remove plugins here. 

Users – 

In this section, you can change your email & password. You can add or remove users from your blog.

Tools – 

If you want to import or export your website content, you can do that with the help of this section.

Settings – 

You can manage your WordPress general settings here.
4. Choose a WordPress Theme
After familiarising yourself with WordPress, it's time to choosing a WordPress theme for your blog. A theme is a basic layout for a website. WordPress comes standard with lots of free and paid theme options. 
If you're thinking, what's the difference between paid and free themes. Paid themes are more customizable and powerful than free themes. Divi is my preferred paid WordPress theme out there. 
If you don't want to use a paid theme, then start with a free theme.
Best free themes for a blog are-
Should you have opted to use a free theme, then use a drag and drop page builder like Elementor that will make your job easier. Drag and drop, as the name implies, is where you build a website visually by dragging and dropping elements in place, without the technical know-how of the backend processes taking place!
Steps for selecting a blog theme- 
1. Go to your domain's login page, which should be in the form https://YourDomain.com/wp-login.php and enter your login credentials and click on Log in.
2. Once you logged in the WordPress administrative dashboard, then hover over to
 Appearance 
and click on 
Themes.
4. Now you're in the WordPress theme section, where you can search, install, and activate your WordPress themes.
5. Locate your theme, install and activate it and customize it according to your needs.
5. Write & Publish Your First Blog Post
Once you completed your blog customization, then it's time to write & publish your first blog post. Login to the WordPress administrative dashboard and go to the Posts section. 
Click on Add New to create a new blog post.
Give your blog post a title and start writing and adding images and links to your first post.
Once you've finished writing and ready to publish your post, click on Publish.
After writing some amazing blog posts, it's time to promote your blog and making some money with it. 
So let's get started –
Promote Your Blog – Start promoting your blog with your friends and on social media to drive traffic to it. Social media is one of the best traffic sources, you'll get a ton of organic traffic with social media. Share your blog post links on social networking sites like Facebook, Twitter, Pinterest, Linkedin, etc. Most of other bloggers use Pinterest to drive a ton of traffic to their blogs.
Promote your blog post with your email subscribers. Send them newsletters and new blog post updates.
Optimize your blog posts for search engines like Google, Bing, Yandex, etc. So you'll get organic traffic from search engines.
Make Money With Your Blog – Once you're getting some traffic to your blog, then it's very easy to make money with your blog. There are several ways to monetize a blog. You can put ads to your site, adding affiliate links, writing paid reviews and sponsored posts, selling digital products, etc.
As you can tell anyone can learn How To Start A Blog from scratch In 2022 and monetize it with relative ease. The challenge is merely setting aside some time to accomplish your goals. At the beginning it might be a tad tough but, once you've got the hang of it, nothing should stop you from accomplishing your goals. Whether you desire to learn how to start a word press blog or ecom store, the resources are freely available online – you simply need to be hungry enough to pursue your goals.
Hopefully, this article motivates you and you now know how to start a blog. 
Please share this article should you have enjoyed it!