The low-down on how to build an email list for affiliate marketing
I feel it's pretty safe to assume that, when someone's searching for a very specific term such as "how to build an email list for affiliate marketing" in the search engines, chances are they're already fairly familiar with internet marketing and are now looking for ways to generate traffic to their affiliate promotions through email marketing.
As we all know, traffic is the lifeblood of any business, offline or online. Without traffic, be it through paid means, social media posts or email marketing, your business' as good as a dead, dead ded!
Might sound funny but, it's no joy to spend so much time building your business and, once you've completed and are proud of your hard work, you have nothing to show for it.
Is Affiliate Marketing a Con?
The biggest reason why 98% of Internet marketers fail to generate an income online, is because they do not know how to drive traffic to their offers.
The majority timidly throw a couple of dollars at the google adwords gods hoping on a wing and a prayer for conversions but, when these do not materialize, they simply give up, – after a mere day or two without as much as learning how to build an email list for affiliate marketing!
Then they're off to badmouth internet marketing as a scam! This is the biggest hurdle to crushing it in this industry. All you have to do is spend a couple of minutes performing keyword research to realize that the demand for home based business help and people desiring to venture into affiliate marketing are off the charts soaring!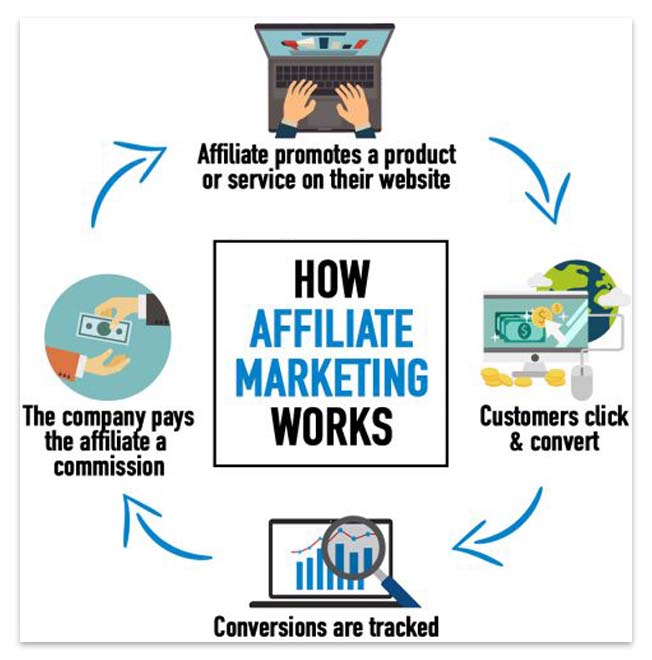 Whether you desire to learn how to build an email list for affiliate marketing for free, or have the means to pay for traffic, the demand is there and the opportunity to make money will always be there – you simply have to build the prcesses that will make that possible. We hope this article will answer all your pressing questions, and then some! So buckle up, grab yourself a cuppa and let's dive into this shall we?
Disclaimer – Since I share blogging and internet marketing strategies with awesome folks like you, naturally my content may contain affiliate links for products and software I use and recommend. Should you take action (i.e subscribe, make a purchase etc) after clicking one of these links, I'll earn some coffee money (at no cost to you) – Which I promise to drink whilst creating more helpful content like this! 🙂

PS: You can read my full affiliate disclosure in my privacy policy.
Affiliate email marketing for beginners!
If you're just starting out with affiliate marketing, we hope this article will fast track your way to generating commissions with the least amount of effort on your part. Here's how..
Find a product to promote.
This may sound daunting, but it's actually quite easy once you get the hang of it. You simply need to know which merchants, platforms etc have an affiliate program you can join. Take for instance amazon, they have a great affiliate program that pays commissions on a sliding scale depending on what your referral ends up purchasing on the platform.
You can apply to the amazon associate program to promote amazon products.
Below is a table of product categories that pay the highest commission rate through Amazon associate program.
| Product Category | Fixed Commission Income Rates |
| --- | --- |
| Amazon Games | 20.00% |
| Luxury Beauty, Luxury Stores Beauty, Amazon Explore | 10.00% |
| Digital Music, Physical Music, Handmade, Digital Videos | 5.00% |
| Physical Books, Kitchen, Automotive | 4.50% |
How does the amazon affiliate program work and why would they pay you that much, I hear you ask?
Good question my Dear Watson.
Referral marketing is not a term many are used to hearing, even though affiliate marketing is referral marketing in and of itself! By referring others to a product, you're making it easy for the vendor or merchant to sell that product with little to no advertising cost incurred by them. In return, they (the merchant etc) pays you a affiliate commission for your troubles.
Is Amazon a Good Affiliate Platform?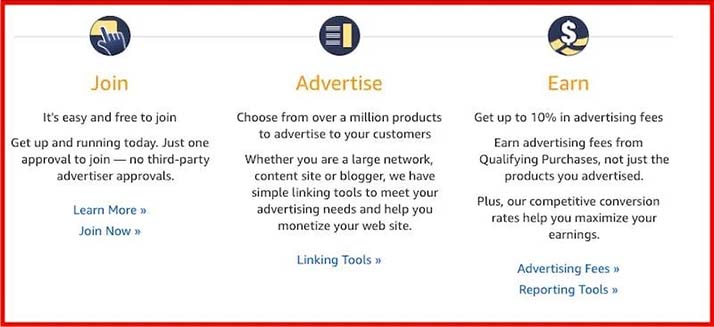 The good thing about the Amazon associate program (as it's called) is, should someone land on Amazon through your affiliate link, and they end up purchasing anything else other than what you referred them there in the first place, you get credited with that person's purchase/s for up to 24 hours in the future!
Not sinking in yet?
Let's say you refer someone to Amazon through your link promoting, oh let's say a childrens' bedtime stories book, your referral lands on Amazon BUT, life gets in the way and they delay the purchase of that book you were promoting. However, they come back to Amazon some 17 hours later, which happens to be the next day (and still within the 24 hour cookie window) and they end up purchasing $200 worth of skincare products!
What that means is.. you my friend, have just made 10% out of that customer's purchase, without doing anything other than getting them onto amazon through your link!
Now imagine if you had an email list, and all you did day in and day out was email your list with amazon promotions and "specials" with the intention that they clicked on your amazon affiliate links each time.. just how much do you think you could essentially make say, in a day, a week a month?!
You're welcome!
How to build an email list for free
Are the waters still murky on how to build an email list for affiliate marketing the right way?
Let's keep digging!
Email marketing is the most potent form of direct marketing there is.
No other medium comes even close!
Sure, there is TikTok, Insta and all other social media platforms but, you need to pay each time you need to be seen or at least have an influence if you desire to make the kind of money you're after here so, focus! With email marketing on the other hand, once that subscriber's on your list – you can email them with your offers as often as possible (within limits Grasshopper) to generate income on the fly!
According to Google, who seem to know more about us than our own mothers do, more than half of the world's population have email accounts and a email user checks their email on average 20 times a day!
That's.. #$%&*, ermahgerd 4 Billion Earthlings times.. you get the picture!
The money is in the list!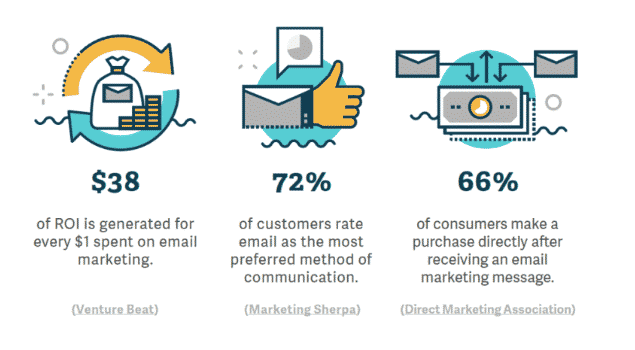 If you master how to build an email list for affiliate marketing by actually creating enough trust with your audience, there to serve and help, rather than peddle snake oil, your subscribers will come to view you as the go to authority figure on the subject you may be promoting! All you're doing with email marketing is sharing your thoughts, products and promotions with your audience in ways that they feel they need to click on your links and purchase whatever you're promoting!
Short on cash? Simply send an email to your list that trusts you more than they trust their girlfriend's boyfriend and, you guessed it – Ka-CHING!
Now, onto the best part, just how do you build this darn email list for free?
How do I get free email lists for affiliate marketing?
Ideally, you need your own domain (website to the uninitiated). Doesn't really matter what the name of your website is, just as long as it makes sense to someone who lands on it. Wouldn't really make good sense however to call your site JerrysIceCandy.com when you're actually planning on promoting amazon, clickbank or warriorplus products. These platforms have some of the best email marketing affiliate programs on the interwebs.
Not sure what clickbank or warriorplus are? visit our what is affiliate marketing section for a good rundown on these affiliate platforms.
About domains, you can register a domain for as little as 0.99cents with namecheap and also host it on namecheap, who happen to be my domain registrar by the way. I've been in this industry since about 2012 and back in the day I only used namecheap to register my domains and I hosted them elsewhere! Over time, I've come full circle and this is actually my first time buying and also hosting my domains with namecheap.
To say I'm over the moon with the level of service I'm receiving is an understatement!
Can't I Just Use Social Media Instead?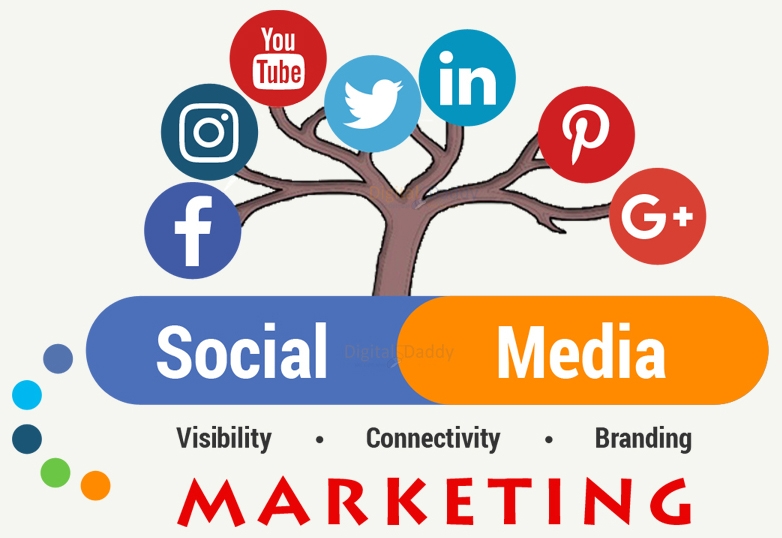 The biggest mistake most affiliate marketers make, is they build their entire businesses just on social medial alone.
Not that there's anything wrong with having your presence on social media but, if you've been in this game for any length of time, you'll know that this is not a sustainable model for long term growth. Social media rules change all the time. What was cool on facebook a couple of years ago is now frowned upon.
Consider that a couple of years ago you could build fanpages and attract millions of likes and similar of engagement per fanpage post.. Fast forward to 2022 and most of these fanpage owners are lucky to get a handful of organic likes and engagement on their pages.
You actually need to pay to boost your posts to be seen by members who've already liked your fanpage!! Something doesn't sound right when you have to pay to have people already following you to see your content, does it?
Which just proves my point, build your content on your own website and promote it on social media. Regardless of what happens to that social media platform, your website will still be there whenever you need it.
Can a Beginner Build a Website?
Now that you've got your domain name registered and hosting purchased through namecheap, this still doesn't answer the question of How to build an email list for affiliate marketing does it? Not quite, but we're getting there my Dear Watson!
Your website is only half the story, we need to create a compelling landing page, which is where you'll be collecting names and emails of every visitor to your site! You may be asking – what's a landing page Gov'na? Does it need wheels or somefink? Erhm, not that type of lander Squidward.
By landing page, or squeeze page as it's also called, we're referring to the only page/s on your website where your visitor "lands" and performs the action you desire them to, i.e. gimme your name and email in exchange for the information you seek on the the other side of the site.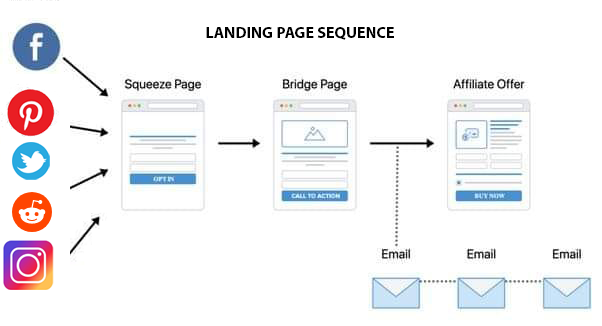 Don't let that discourage you if you've never created a website, let alone compelling landing pages before. Here're the top website builders on the market with what you see is what you get (WYSIWYG) dashboards. A drag and drop functionality which, as the name suggests, you literally drag and drop elements on your website to create stunning landing pages the way you would like them to look without knowing anything about coding etc.
Whilst it's common to "bribe" your visitor with a free ebook from reputable PLR sites or something to that effect in exchange for their emails, this type of exchange merely "trains" your visitor to expect something upfront in return for them giving you their name and email.  Good landing pages that have a compelling message stating why your visitor needs to give you their email address don't necessarily give aways freebies.
Simple Does It Landing Pages for email Marketing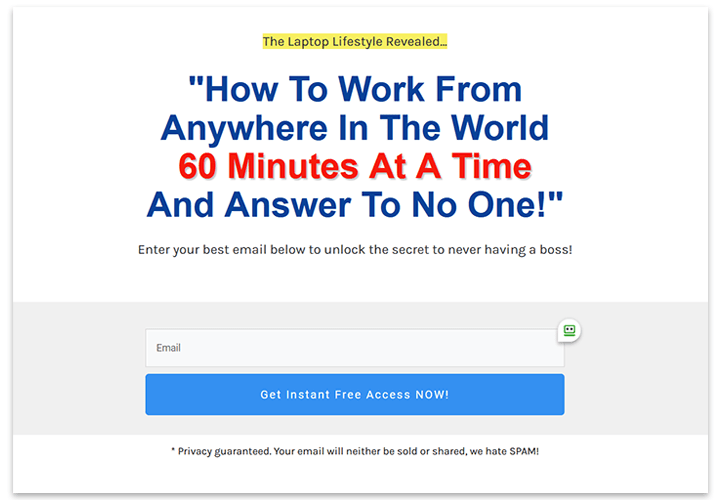 That said, use your discretion here for the end result is you want someone to give you their legitimate email address and not a fake one. The best way to accomplish this is by not directing someone who has just signed up to your newsletter straight to the download page, rather to a bridge or thank you page.
This could be a page where you thank your subscriber for signing up to your newsletter, then instructing them to go check their inbox for your email where they'll find the link to the free ebook etc. and, should that email not be in the inbox, for them to check their spam folder and MOVE it to their inbox (whitelist!)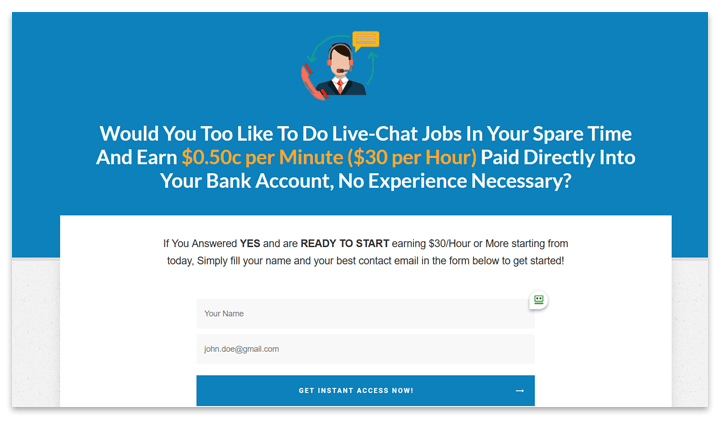 Should you be selling something like a digital download etc, the bridge page is an awesome resource to "promote" something else immediately upon your subscriber opts in to your newsletter so they can purchase before you've even begun sending them your daily informational emails.
Highly Optimized Bridge Page: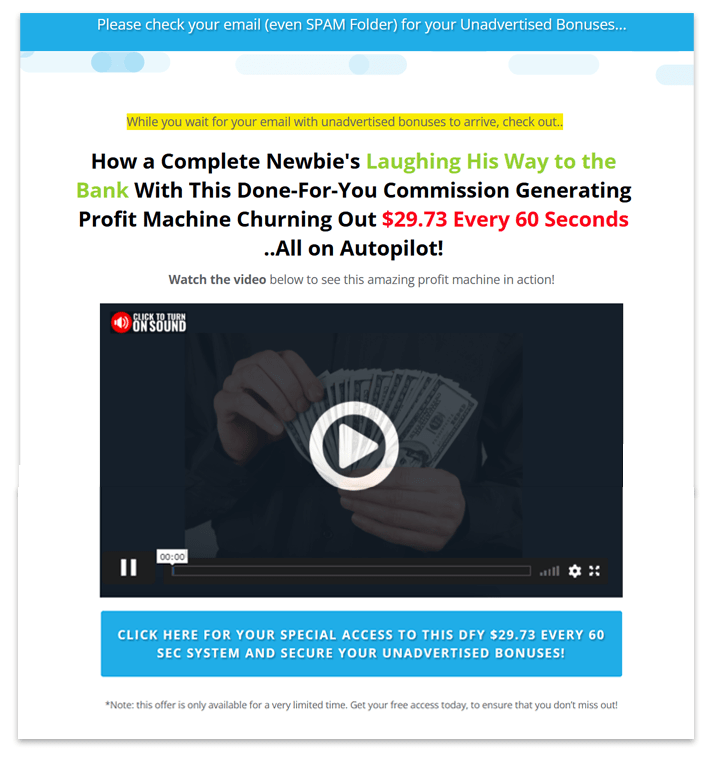 This serves 3 purposes
The subscriber is forced to give you their legitimate email address instead of a throw away or fake one.
To prove their commitment to your newsletter, the subscriber needs to go hunting for it in case it landed in the spam folder
You get to be perceived as a serious marketer who knows their stuff from the get-go by following this method
Want to learn how to build an email list for affiliate marketing by spying on other marketers? I'm pretty sure you've visited countless pages online which had a compelling sales message that just "spoke to you" and convinced you to freely submit your name and email or just email address in order to access something you felt was of value to you.
That's how convincing great landing pages – which are usually a simple two page sales site (landing page and bridge page plus the mandatory legal pages etc) with a clear sales statement, an optin form and a Call to Action button can be. Creating them on the other hand takes practice. My best rule of thumb is, whenever you come across a page where you feel you should enter your details, save that page first for inspiration later!
Now that you have your domain and landing page all setup, we need an autoresponder!
No, NO!, don't roll your eyes or throw your arms up in exasperation, there's money to be made on these interwebs, isn't that the sole reason you landed here looking for how to build an email list for affiliate marketing?
Autoresponders and email list building
Ok.. autoresponder – that's the thingmagic that sends your emails on auto-pilot!
Sure, you can email your subscribers daily and personally from your own email account to save some but, how long do you think you'll last, not to mention the chances that your emails will land in your subscribers' inboxes!
An autoresponder makes it seamless to craft, save and schedule your emails to be sent at your chosen time to your subscribers once they've signed up to your newsletter!
Whilst I used to use a self-hosted autoresponder which used the Amazon SES to send emails, the technical side of setting up SPF, DMARC and DKIM policies and ensuring email deliverability was always 100% took too much of my daily resources to remain productive.
Suffice it to say I now use GetResponse – which in my opinion, is the best autoresponder for affiliate marketers. Getresponse is free for up to 500 contacts or subscribers!
Should your subscribers increase beyond this, chances are you're already balling and due to upgrade to other plans that GetResponse offers.
Email list building 101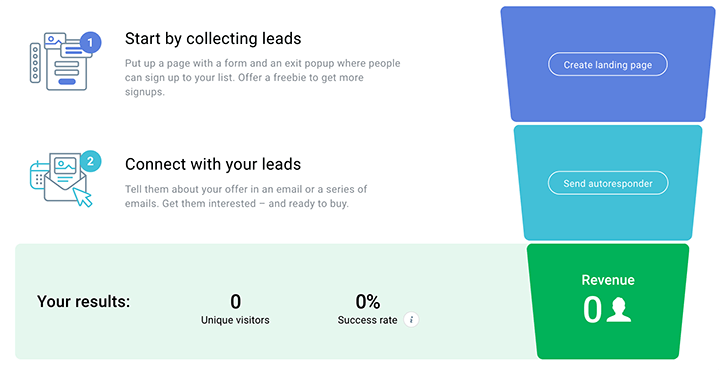 If anything, you want an autoresponder platform that guarantees your emails are delivered into your subscribers' inboxes instead of their spam folders! You might think it's that easy for your email to land in your subscribers' inboxes but, it actually is more nuanced that you think. There're these things called domain reputation, IP blacklists, warming up your inbox and also the keywords you use in your email content – all of which determine how the major ISPs handle your email and where it'll land in the grand scheme of things.
GetResponse has good street cred with ALL the major ISPs, so it's safe to say your emails will land in your subscribers' inboxes!
YASS!
There are quite a few other reputable email marketing platforms available, for a fee of course. Marketers tend to move from one platform to the other depending on their needs and how well their emails are being treated by the ISPs (these are the badboys whose job is to ensure spam doesn't hit your inbox, think yahoo, comcast, hotmail and google).
How to build an email list for affiliate marketing using social
Now that you have all the above setup – let's go fishing, erhm, for subscribers for free that is!
The first, and easiest platform to accomplish this is facebook. You join as many groups as you can in your chosen niche. Once approved to those groups, join the conversation – This is important! A lot of uninformed marketers feel this is the time to spam those groups with their affiliate links, then wonder why they get banned or worse still, noone clicks on their links!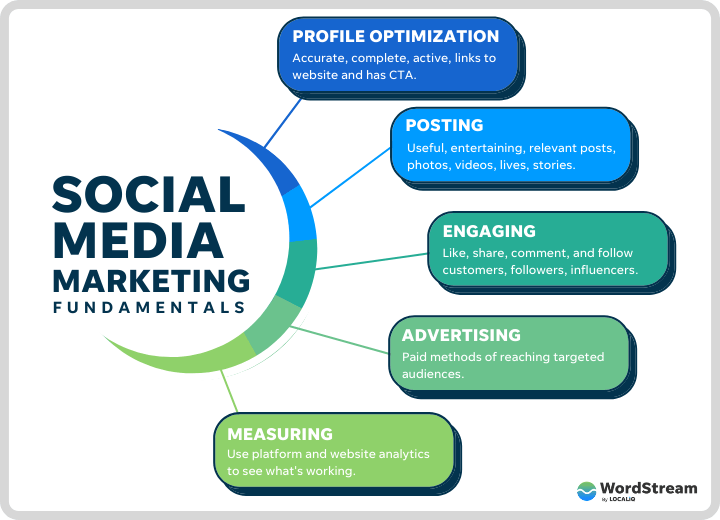 Spend time reading through the comments and sharing useful tips and advice and once in a while, posting your affiliate links within your posts. People can smell a con a wifi away so, be helpful and useful, and the groups' audiences will reward you with clicks to your site if done correctly!
Within a couple of weeks of doing this, you should start seeing a trickle of traffic landing on your squeeze page and, with any luck, signing up to your newsletter!
Congrats, you're now officially a Internet Marker and know how to build an email list for affiliate marketing.
Gaming list building like a boss!
You can replicate the above methods on any other social media platform, such as on twitter – by using twitter advanced search to find phrases (not hashtags) being used by users in your niche, then "following" them.
What kind of phrases I hear you ask? well, stuff like "I hate my job" or "I need more money" or "where can I buy that" or "I love shopping" etc. depending on the niche you want to target.
Curiosity is powerful medicine trust me. Whenever a regular (not internet marketing savvy) twitter user notices that someone's following them, they cannot help but come check out your profile and, should you have enough information in your bio, a great corresponding banner and tweets to do with your niche etc, those users will follow you back, because you have the solution to their problems!
Tweet regularly and use hashtags in your tweets so they can be found by others searching for content using those hashtags!
How to build an email list for affiliate marketing covertly
Similar to joining facebook groups, is to search for videos on youtube in your niche, then commenting or responding to some of those comments with something positive about the video, and then mentioning how a site (your site) helped you solve the pain everyone in the comments section desires solved etc.
You get the picture!
How to get email lists for marketing the wrong way
Whilst I've shared free methods on how to build an email list for affiliate marketing, I do not advocate that you spend your hard earned money on purchasing a ready made email list off the internet. I know of so many affiliates who have purchased their lists, then wonder why they're not making any money from it!
Pros and Cons of Buying email lists
There are no benefits to purchasing lists, rather..
1 You're buying a list you have no idea how it was created in the first place.
2 Those people to whom those emails belong to have not given you permission to email them.
3 Google penalizes email addresses and domains when it detects that your newsletters are not being opened by your "subscribers"
4 You stand a chance of getting your domain name and IP blacklisted, then you'll never be able to use it again!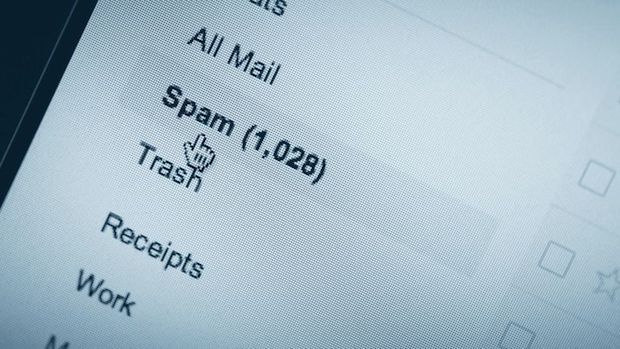 Rule of thumb, if it sounds too good to be true, then it usually is!
Whilst I realize that for most of you learning how to build an email list for affiliate marketing is akin to a life or death situation, buying an email list could set you back years, and the pain of starting all over again far exceeds having to build your affiliate marketing business the right way.
What is the fastest way to build an email list?
Speaking of which, want to learn how to build an email list for affiliate marketing super fast?
Buy Solo Ads, DUH!
But, how does this work exactly and how will I know I'm not being diddled under the table like an alter boy during Sunday mass at the local Catholic church?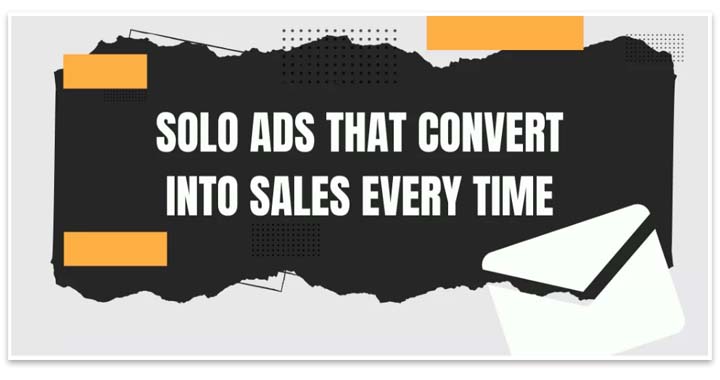 Unlike buying an email list, solo ads are one of the best and fastest way to build your email list. Solo ads are email-based advertisements you buy from other email list owners. In short, you're buying the right to have your email broadcast to another email marketer's subscribers. These email marketers have large email lists they've built over time, and will sell you "an email blast" i.e. the right to have your message sent to a set number of their subscribers depending on how many "clicks" you may have purchased.
Should any of the email subscribers from the email marketer you just bought an email blast from sign up to your list, they become yours, to market to over and over again!
In case you're wondering, wouldn't these subscribers also belong to the email marketer who just sold you access to the list? The answer is yes!
BUT.. consider this, you probably belong to a number of email marketers' lists as we speak right? So who's to say you cannot or should only belong to one email list? What you promote and how you market that information is more important than the number of email lists your subscribers belong to. Great marketers will always convert you because their message resonates with you, regardless of how many other email lists you may belong to.
Can you email affiliate marketing promotions while buying solo ads?
Glad you asked.. platforms such as UDIMI make it super easy for buyers (yourself) and sellers (credible email marketers with huge email lists) to exchange funds whilst these marketers email their lists with your affiliate link or link to your optin page in these emails. You can purchase any number of clicks, from 100 all the way out of the whazoo for a fraction of what it would cost to build the email list on your own through other means.
Clicks on UDIMI are charged at a Cost per Click (CPC rate) ranging from the low 0.30 CPC to over $2.00 CPC! Whether the $2.00 CPC clicks are royalty members twiddling their fingers waiting for an email to click on or not is up to your imagination.
Depending on your offer during the email list buying process (solo ads) you can easily recoup your initial investment, and still get to promote other affiliate offers to your new list.
Cold email affiliate marketing the right way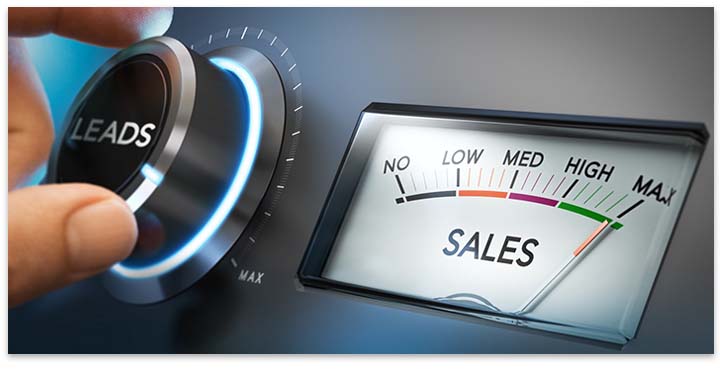 What I like about UDIMI is that the platform filters bot and useless clicks so you the buyer are protected from fraudulent clicks! The rate your pay per click also depends on the location of the email subscribers you would like to have on your list. Most vendors on UDIMI charge what we refer to in industry terms as premium for Tier 1 traffic – meaning subscribers from countries where the main language is English!
Many solo ad vendors tend to move away from UDIMI once they've established a name for themselves and have gathered enough testimonials, that's because UDIMI charges an arm and a leg in fees to sellers due to the monopoly they have in this space, so most sellers simply have to bear it and grin!
One such UDIMI solo ads vendor I'm happy to recommend is Renya, who sells exclusively US-based email traffic for one low price. Where other email marketing sellers sell their premium traffic for close to $1 CPC, Renya sells hers for $0.40 CPC, all US based email subscribers..Her attention to detail when assisting affiliate marketers with their landing pages to improve conversions is legendary!
Now that you know how to build an email list for affiliate marketing – let me know how it's going for you and how I can help. You're embarking on a journey, and this is as exciting as it gets!
May you thrive!
Related: Best Automated Sales Copywriting Software